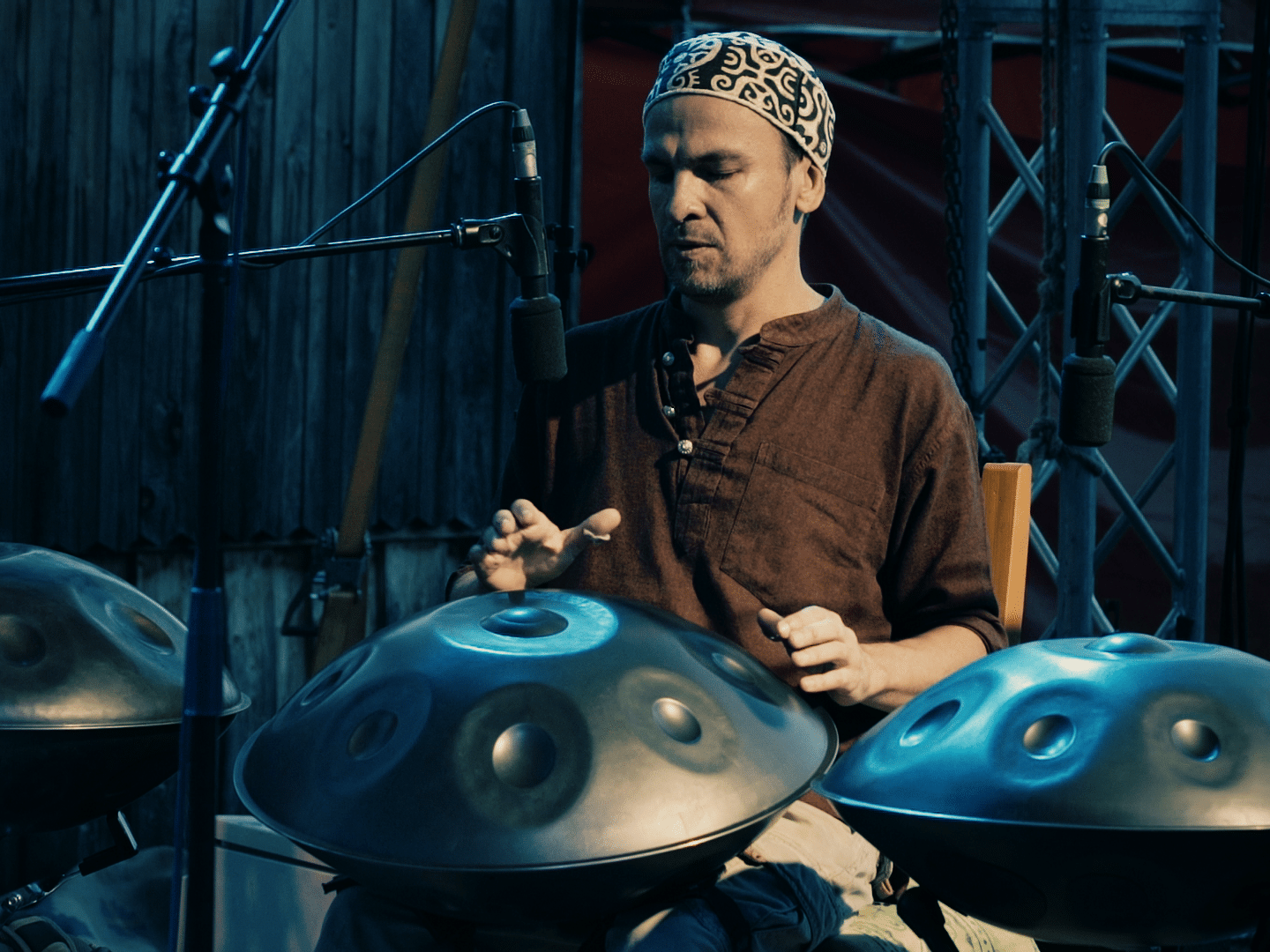 In the last post Folk.World reviewed an amazing live recording of Nadishana: Handpan in perfection: "Live @ HUG'20 Festival" from Nadishana & Peter Somos. Only for Patrons, Folk.World releases now the exclusiv interview with this fantastic multi-instrumentalist from Siberia.
What was the idea of making this live album?
This was the only festival gig which we played this year. The rest was obviously cancelled. And it looks like that next year we are not likely to play anywhere as well. I even don't know if we will meet with Peter again anytime soon (he lives in Poland and I live in Germany). The organizers of this festival did incredible work to save it and they made it happen against all the odds of 2020. The whole thing was totally unique. So for me this recording is a very precious memory and a symbol. That's why I decided to publish it.
We are not going to stop doing what we are doing despite the covidalism. I think that is the message of this recording.
What is the difference to your previous albums?
The difference is that this album is dedicated to the handpan. It's a totally new adventure for me. On previous albums I played a mixed set of different instruments (winds, strings, percussion). For the last four years I took the handpan seriously and came up with new approaches, techniques and ideas. I composed quite a lot of music for the set of handpans. So for me this album is a fascinating journey into the world of singing steel!
Besides that Peter Somos is doing a completely unique work. He plays the whole rhythm section alone in real-time combining percussion set and keyboard bass. He is the only person in the world who can do this afaik. As a result our duo sounds like a full band.
What instruments are played?
I play 3 custom made double-sider handpans. It was my idea for quite some time to have handpans with two different scales on different sides and no tuning hole. The purpose of that was to have a mobile set to travel with, so i would have not just 3 different scales with me on the road but 6. However double-sider handpans appeared to be very hard to make. But I managed to convince 3 different makers to produce them for me.
Also in one song I play Russian folk instrument which we call kalyuka. It's an overtone flute without playing holes.
The tradition of playing this instrument is unfortunately lost completely in Russia.
Peter plays percussion set, cajon, riq, udu and the keyboards. The drum set is also very unusual. We constructed it from the number of different percussion instruments. Peter plays with broomsticks, not with the normal drum sticks. Handpan is a very tricky instrument to combine with other instruments. In many cases it kind of disappears in the band setting. So it took us some time to design the drum set which wouldn't interfere with the handpans soundwise and volume wise. And I'm very happy with the final result.
What has inspired you?
I listen to a lot of traditional music from all around the world. Also jazz fusion, contemporary classical, prog.
I'm trying to adapt various techniques from different traditional percussion to the handpan and also expand the harmonic language of this otherwise limited instrument by combining 3 of them together. The inspiration for that of course comes from the music I love listening to. Since there's no tradition behind the handpan and it's a very new instrument, there's a huge field for innovation and it's very inspiring.
Tell me about you.
I'm from Siberia, Russia and now I'm based in Berlin. I am a multi-instrumentalist and my main instruments in the past were various ethnic strings and woodwinds. I also have quite a few self-made and self-developed instruments. I have recorded 12 albums of very different music to date. I was also involved quite a lot with the sampling, producing my own virtual instruments and MIDI programming from the end of 90s when I got my first computer. Now it's called sound design but this term didn't exist then. My own term is "sound microsurgery"
Tell me about Peter Somos.
Peter is a multi-talented musician. I think he is a genius! He's equally good on the drum set, middle eastern percussion, keyboards and he even plays electric bass on a very good professional level. His broad musical vocabulary and understanding of different musical traditions together with his systematic musical knowledge makes him a perfect companion for me. Our musical tastes are also very similar.
What is your favorite track?
Oh it's hard to choose:) In case of this particular live performance it's "Kuaroa" (#1).
Do you play kind of traditional music, or what are the roots of your music?
I would say my music was always inspired by traditional cultures all over the world but it's all original self-composed material which has also strong influence from many contemporary music styles.
What are your thoughts about the pandemic?
Well, I'm from the totalitarian country. And what's going now is utterly familiar for me. We've had a very similar political system in USSR. I loved Europe and Germany because of its freedom. That's why I moved here 13 years ago. And It's a pity that the totalitarian regime is coming here now. I call it post-democratic covidalism. It's up to us now though if it will succeed.
What else do you want to say?
I wish everybody to stay sane in the time of insane
---
Weitere Beiträge:
Interkeltisches Folkfestival 2022 in Hofheim am Taunus

Vom 14. bis zum 17. Juli 2022 ist es wieder soweit: Beim Interkeltischen Folkfestival in Hofheim am Taunus kommen alle Leute, die sich für Dudelsackklänge und internationale Folkmusik interessieren, voll […]

Neu bei Folk.World: Die Irish Flute

Die Königin aller irischen Flöten kannst Du jetzt bei Folk.World bestellen. Ob unbändige Lebensfreude, ob Wehmut oder Melancholie – so vielseitig wie die irische Folkmusik ist auch diese traditionelle Holzquerflöte. […]

Nadishana tells about the only festival he played in 2020

In the last post Folk.World reviewed an amazing live recording of Nadishana: Handpan in perfection: "Live @ HUG'20 Festival" from Nadishana & Peter Somos. Only for Patrons, Folk.World releases now the exclusiv interview with this fantastic multi-instrumentalist from Siberia.